Laboratory Certifications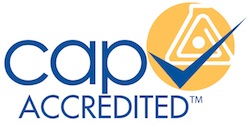 Our lab is inspected and approved for molecular diagnostic tests by the College of American Pathologists, and registered with the US Department of Health and Human Services under CLIA-88 legislation (CLIA Registration Number 99D990947).
Impact Genetics is a member of the European Molecular Genetics Quality Network and a participant in every External Quality Assessment Scheme the EMQN has run for Retinoblastoma.
Our lab is compliant with ISO 15189 Plus and accredited with Accreditation Canada.