Advancing Genetic
Diagnostics for
Precise Medicine.
Impact Genetics provides cost-effective, high quality genetic testing for select diseases.
In collaboration with our leading scientists and clinical care providers, we continually refine tests to maximize sensitivity. New scientific discoveries, genetic data and clinical knowledge flow freely to maximize health impact. Impact Genetics' service delivery team is committed to supporting doctors and genetic specialists with outstanding service.
April 4th, 2016 – Impact Genetics Tests Listed on LabCorp Test Menu. Impact Genetics' uveal melanoma and HHT tests are now available to be ordered through LabCorp in the United States. More information.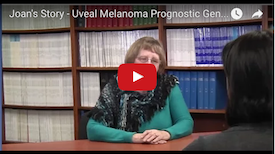 Joan's Story – Uveal Melanoma Prognostic Genetic Testing
Joan speaks about her decision to undergo prognostic UM tumor testing. This is followed by interviews with Dr. Tara McCannel (UCLA) and Dr. Bertil Damato (UCSF) who discuss how they use results of UM genetic testing and the importance of this testing to their patients.
Dynacare Centre for Precision Diagnostics – Bowmanville, Ontario
Specialized scientists, Impact Genetics and Dynacare are working together to support healthy lives around the world. The Dynacare Centre for Precision Diagnostics in Bowmanville, Ontario has partnered with internationally sought-after Canadian scientists to provide cutting-edge genetic test solutions globally.
Services
We offer the following clinical genetic tests in our CAP/CLIA certified lab.
Why choose us?
Cost effective
Documented high diagnostic sensitivity
Provided by disease experts
Flexible billing and personal support
Quick turn-around times
Comprehensive and informative reports
News and Events
Our Uveal Melanoma Prognostic Genetic Test will now include SF3B1, EIF1AX, GNAQ and GNA11 sequencing for tumor confirmation in chromosomally normal tumor samples.
More Information.